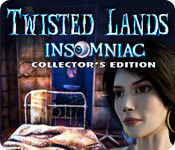 Twisted lands: Insomniac
BigFish exclusively released the Collector's Edition of Twisted Lands: Insomniac game. It includes tons of additional stuff:
1) The most important part of collector's edition - included additional gameplay: added new levels, Hidden object scenes and puzzles, even a little independent plot branch. So with this collectors edition you will spend in the game's world a few hours more.
2) As usual, this BigFish games Collector's Editions includes integrated Strategy guide. It is fully illustrated and includes solutions and hints for all complicated places of the game, where you can stuck. Moreover, it includes videos of most important game moments to make your life easier.